Classic Car Transport
Lepke Auto Transport offers a high quality classic car transport for classic car collectors. We understand that car collectors have invested time and money into their cars and expect special care when handling their transport. Many older vehicles can be a challenge to load and strap down when hauling. Lepke Auto Transport has 30 years experience in the auto transport industry, making our company just about as old and valuable as your classic car.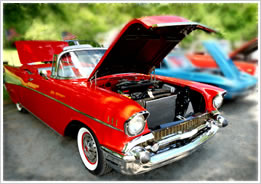 If your classic car is worth more than $50k we recommend using our enclosed transport service. An enclosed transport will guarantee your vehicle is fully insured even up to a high value where many open transports are only insured to a maximum of $50k. An enclosed transport also offers a much cleaner and safer delivery, especially if you vehicle is newly restored. Whether you are looking for an enclosed or open transport, we ensure a highly dependable driver will handle your classic car transport from door
to door.
Don't trust your classic car transport to just anyone, get the special care your classic car deserves with Lepke Auto Transport!
For a FREE classic car transport quote please fill out our quote form or call Lepke Auto Transport toll free at 877-733-3479.